Braces from The Park Practice Dental Practice Glasgow West End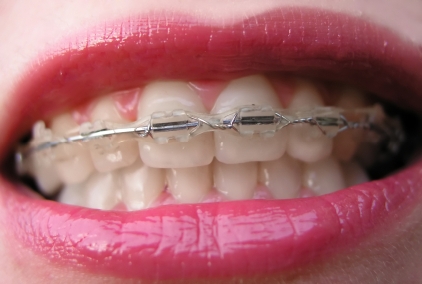 We provide treatments that straighten teeth and correct bite problems
The Park Practice provides orthodontic treatments in Glasgow which straighten misaligned teeth and correct bite problems. We work in partnership with a Glasgow based orthodontic supplier to provide braces for teenagers and adults. Advances in brace technology mean that our partners can fit you with the latest in cosmetic orthodontics. Virtually invisible braces and easy to clean appliances will straighten your teeth with a minimum of fuss.

For more information on the available options please review Inman Aligner™ and Clear Aligner™.
What is Orthodontics?
Orthodontics is the branch of dentistry which deals with the growth of teeth in relation to your jaws and face. As you grow older your jaws and face change shape. Your teeth are affected by this process and are never likely to be totally uniform. This can affect your smile and even the way in which you eat and speak. Orthodontic treatment is all about making the best of your teeth to improve the appearance of your mouth and jaws. Braces and retainers are now being used by almost one million people in the UK and increasingly by adults. Being able to bite together correctly can help you eat more comfortably and care for your teeth and gums more easily.
Correcting bite problems and teeth alignment
When you visit us at The Park Practice we will give you a full dental check-up. This will identify anything that requires immediate attention. It also highlights many of the problems solved by orthodontic treatments. These include protruding teeth, crowded teeth or gaps between teeth. Orthodontic treatments also correct bite problems – including deep bites, reverse bites and open bites. If your teeth are impacted – secondary teeth have come through in the wrong position – orthodontic treatments will bring them into the correct position.
How orthodontic treatments work
Orthodontic treatments are tailor-made for you, the patient. We provide a full assessment by taking x-rays, making impressions (moulds of your teeth) and taking photographs. It is important to remember that you may need to wear braces for up to two years so you need to be happy with what is recommended. The most common orthodontic solutions are fixed braces, removable braces, functional appliances and retainers.
Fixed braces
A fixed brace is the most common type of brace today, often known as "train tracks". Brackets are glued onto the teeth and linked by wires. Small elastic hoops are often used to hold the wire in position. The wires exert gentle pressure to move the teeth into a new position. The brackets can be metal, ceramic (virtually invisible) or even gold and the elastic hoops come in many colours.
Removable braces
A removable brace is sometimes used for correcting a simple problem, such as moving a single tooth or expanding the dental arch. It has a plastic base plate with wires and springs attached. Removable braces need to be worn all the time except for cleaning or while playing sport.
Functional orthodontic appliances
Functional appliances are used to harness the growth of the jaws and improve the way that the upper and lower teeth meet. There are several designs all of which fit on to both the upper and lower teeth and hold the lower jaw forward. They are mostly removable but should be worn as near to full-time as possible.
Retainers
Retainers are used at the end of treatment. All patients should wear retainers to hold their teeth in the new position. These can be removable or fixed and are an important part of treatment.
Read our FAQs on braces and orthodontics